Engage, Acquire, and Retain Patients from Multiple Sources
Organize patients intake, store medical records, manage billing & revenue cycle, send automated notifications and generate real-time dashboards.
Fertility clinics have a unique business requirement that only fertility clinic management system can satisfy. Our solution is tailored for you and comes with processes like storage management with thawing/freezing requests, recurring annual storage fees management and these are all integrated within a single fertility clinic management software. This can also be used by Stem Cell banks.
Cluttered patient records and missing information.
A generic clinic management system that does not fit into your business.
Missed out on collecting recurring annual storage fees.
Delayed processing due to having pieces of patient information in multiple systems and places.
How Second CRM helps
There are many modules and features in CRM software that can be implemented to address the specific challenges for fertility clinics, including many out of the box and some specially configured or customized for specific needs.
Centralised Patient's Data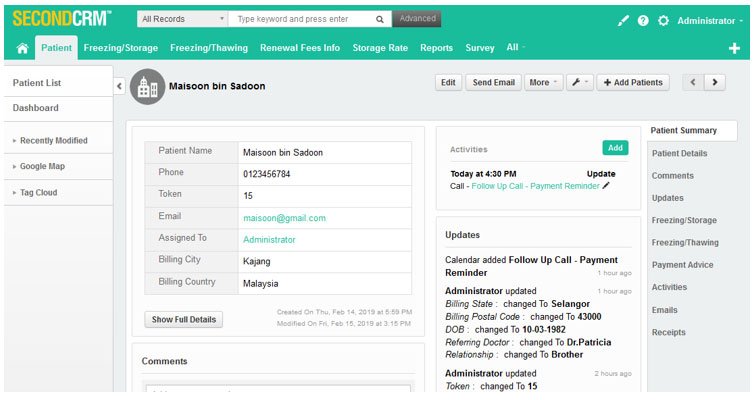 Our Patient Master Data function will ensure that all exchanges between entities in the clinic are properly documented. All tracking and transfer activity will become part of the patient's history module.
This module will be the centralised patients' database and access them with ease anywhere, anytime and this is even more useful in multi-clinic instances. All can be done in one fertility clinic management system.
All patient touchpoints i.e. clinic visits, email, SMS and telephone conversations are attached to the contacts in a systematic manner and these data can be segmented and put to use in a meaningful manner for marketing purposes.
Patients are kept well informed through email and SMS notification on their next appointment date.
Lab Documents & Patient Cycle Management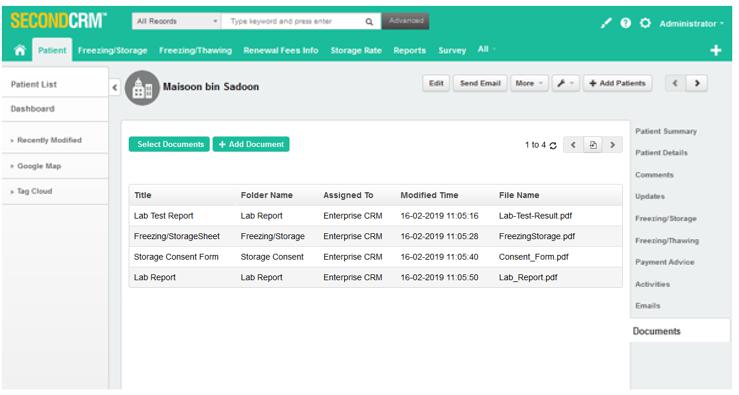 This module will help you to manage procedure cycles, including IVF, ICSI, Donor with STIM Start date, and BCP Start Date. Options include the ability to review the patient's previous cycles and generate storage contracts or consent forms in multilingual language from the system.
Freezing/Storage Management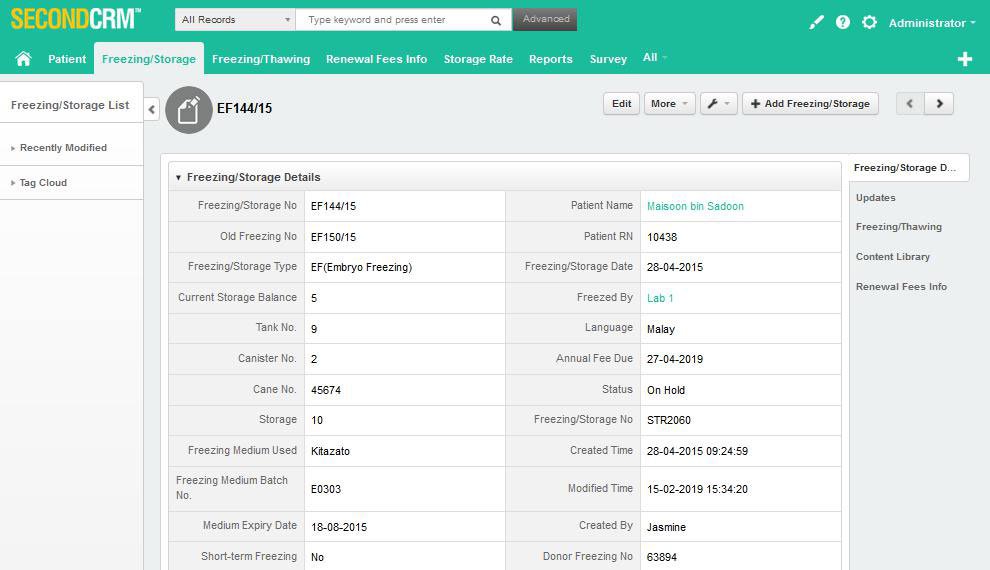 This module will help document and manage the cryo storage information for the storage at your clinic. Easily monitor the status of each and every tissue sample collected from patients for cryopreservation, and eventual thawing-a complete history. This module is our integrated solution for the following tasks:
Managing your IVF, FET, Ovulation, Donor, and complete Storage Sheet.
Tracking lab results of tests for patients and their partners.
Your embryologists and nurses can also use the sheet to record their notes for the patient's cycle.
Viewing different patient information from requisition to cryopreservation, or demographics on a single screen for making real-time decisions.
Adding and viewing photos for the patient.
Freezing the data as it is, just like in your paper records, for future reference.
Storage Sheet is integrated with Thawing and Annual storage fees modules which means that you can access various modules all at one place, giving you a complete presentation of your patient's progress.
Quick Billing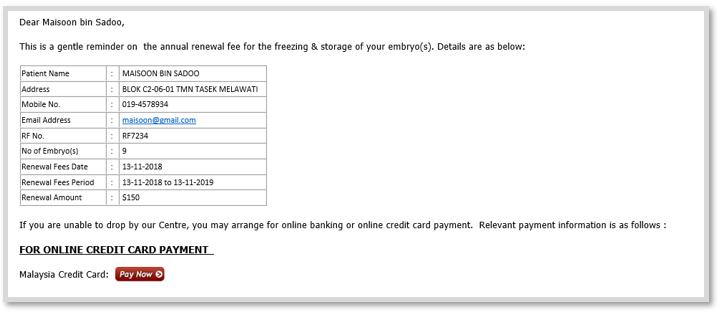 This module provides for financial component management by categorization of all procedures, based on the storage type. The benefit to your office is that you will be able to track and manage cash flow through the system in a timely fashion.
Annual Storage Renewal Fees
This module will create recurring invoices annually based on the balance storage count and send email and SMS notifications to the patient. The payment receipt and invoice is with online payment options with payment gateway integrated to give complete and quick solution for your customers.Customers can download invoice and payment receipts from the Patient Portal as well.
Customer Self-Service Portal
Allow your customers to take charge of their account. They could now do a number of things on their own with minimal dependency on your operations team.
Updating contact information, downloading invoices, sending requests, appointment booking and storage booking are just some examples.
Analytics & Dashboard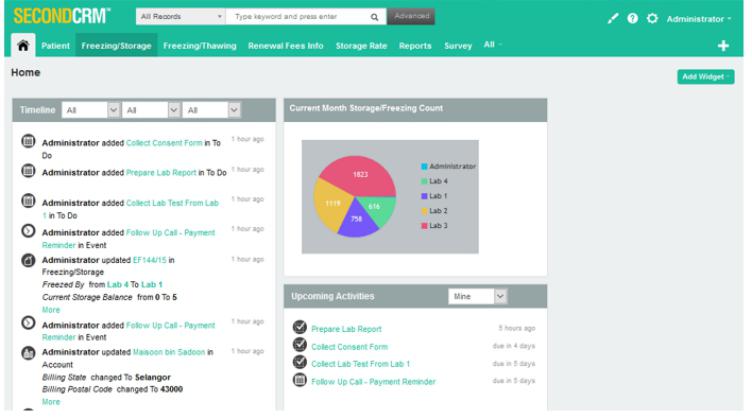 Embryology and Andrology staff can monitor and plan their activities and schedules based on the summary information provided by the Reports Analytics and Dashboard, which is designed to help manage all activities.
What our clients are saying
It's been a pleasant journey with Second CRM for the past few years. The team is extremely helpful, especially providing customization, support and advice to meet our requirements. Big thumbs up to the team for the great service!
Second CRM is a great tool for us to manage our leads through the sales funnel, and track leads conversion. Their technical & support team is always ready to assist whenever needed too!
The web based Second CRM provides a central platform which serves the needs of our sales & marketing teams among various countries. Their support team is very professional with timely responses to our queries.