With the ever-increasing wave of compliance and regulations, investment banks are looking to restructure their practice to become more agile and capital-conscious. As the regular and compliance costs rise, investment banks are under the intense pressure to cut down its operating costs to pave the way towards efficiency. Often the lines of business at investment banks are siloed and they struggle with evaluation and execution of deals, and lack of pipeline visibility also contributes to the struggle. However, it becomes easy to manage deal flow once you have got the right tools.
So, do deal management platforms hold significance in the investment banking sector? The answer is yes they do. From easy catalogs to closing documents, a deal management platform monitors all transactions associated with a particular deal with proper auditing and reporting. To start with it lets first understand what is meant by deal management.
Deal Management and Its Power to Improve Sales
Deal management is simply a strategy or a tool, which gives investment banks the ability to define deal parameters associated with any deal, like customers purchase history, product status, discounts, and other operational constraints which is vital for the sales review. The popular saying which goes like this: Before anything else, preparation is the key to success" clearly states the significance of gathering the right data and information related to any process to be effective in reaching the desired outcome. From a sales point of view, increasing the effectiveness in processing information improves sales performance and leads to increased revenue for the business. Today's modern society thrives on the notion of being connected all time, 24/7. As all the infomation is readily available in a button click, people remain in constant connection with ongoing events across the globe. From the perspective of a business, especially in investment banking, it holds significance as deals can arise, anytime and from anywhere, regardless of what time zone your sales reps are in. They need to be connected to the information all the time, anywhere and on any devices to keep the ball rolling. Customer relationship management (CRM) tool, to be precise a deal management CRM is the ideal platform for investment banks to keep track of their deals.
Perks of Having a Deal Management CRM for Investment Banking Business
Track deals in a visual pipeline
Once a deal enters the sales pipeline, the next step is to push it to closure. If a sales rep is working on more than one deal, tracking the sales activities and progress of each deal becomes overwhelming. A deal management CRM gives the visual flow of every deal in the dashboard and this allows the sales team to manage and track the flow of the deals in what is called as a sales pipeline. A deal management platform gives the complete visibility of your deals with the capability to sort them.
Add discipline to your deal cycle
A deal management CRM brings in the discipline required in your deal cycle by controlling it with an adequate visual indication. You can easily view all the activities of the deal in the different stages of the sales pipeline and simply take necessary actions whenever required. Track each stage of your sales pipeline effortlessly to spot the hot deals and process it with efficiency.
Augment the value of each deal and embrace new opportunities
With a deal management platform for investment banking, it becomes easy to obtain precise, real-time visibility of sales cycle data. This facilitates in easy planning and defining new business strategies with a 360-degree view of all vital information and it also leads to proliferate profit margin. You can also project manage effectively by configuring and automating workflow with ease and not lose track of a potential lead anymore.
Filter and sort deals for smooth management
With a deal management CRM tool, you can easily filter and organize deals based on category and view the progress of a deal. According to the deal status, you can add or edit the stages and it will aid your sales team in finding out stalled opportunities. With an automated sales team management, planning what to do next becomes quite easy to maintain or accelerate the sales momentum.
Perform action-oriented follow-up
When you have a centralized deal dashboard, reaching your prospectus is easier than ever. You can ensure that no hot opportunity is missed due to lack of follow up. Contact your customers on the spot from a Lead CRM software with all the required data in front of you with a button click.
In-depth deal analysis becomes simple
With all the sales related information at your fingertips, it is very easy to track the performance of your sales team. Retrieving the historical reports of deals to get a clear picture of the performance level becomes easy and it also helps in finding out the bottleneck in the sales funnel. Ultimately, a  sales management CRM will help to drive and achieve Sales Target consistently will drive your business to higher profitability.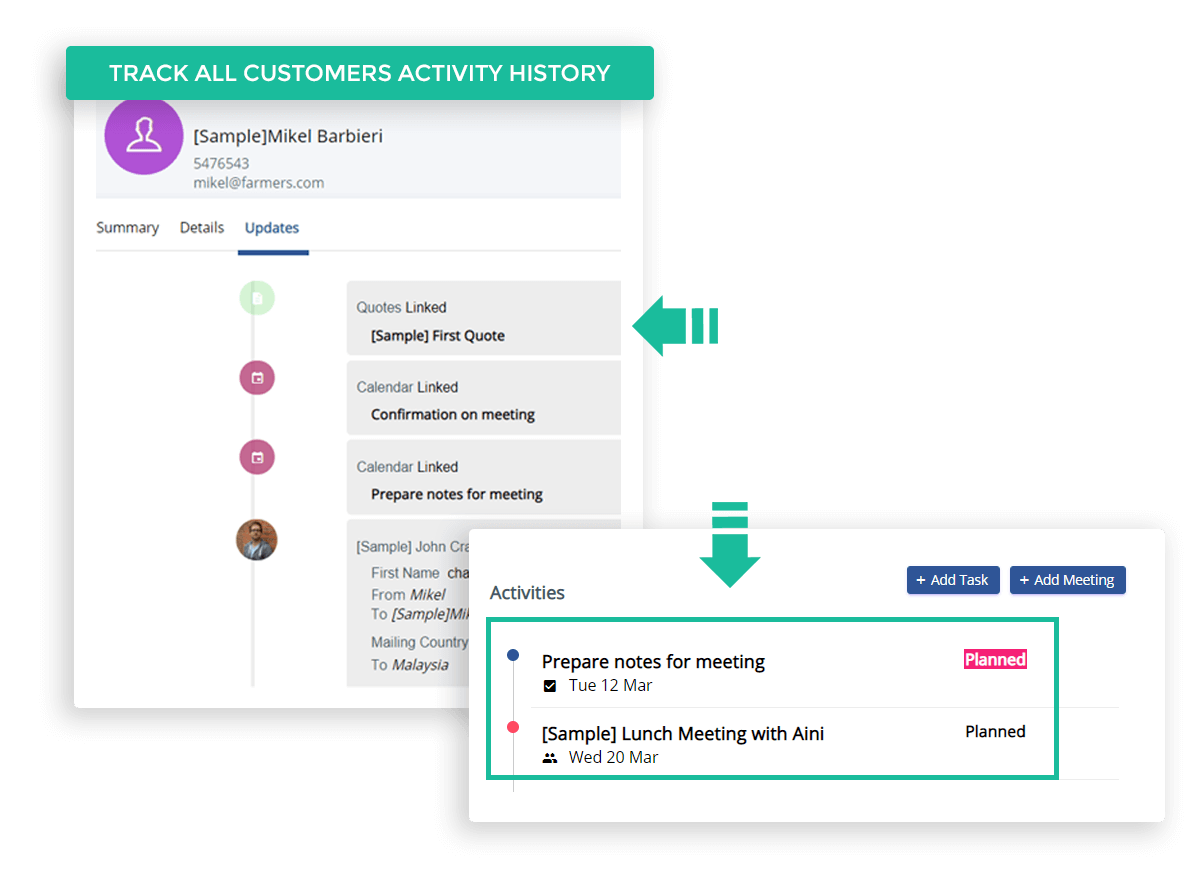 Track deals on the go
Having a deal management tool gives investment banks the freedom to track deals on the go, regardless of your location. All information can be easily accessed and it takes just a minute to keep track of your deal info before you step into a meeting.
To Wrap it Up
Deal management CRM for investment banking is a great collaborative tool to enable your team to coordinate with the deals in a better way. It gives a real-time access to existing clients, financial data, facilitates analysis, and offers an expert process flow designed around the activities and transactions for investment banks. Deal management CRM is an end-end solution for sourcing, managing, integrating, and closing the most complex capital transactions. If you are an investment bank looking forward to overcoming the existing regulatory pressures and improve your deal source execution and efficiency, a deal management platform is essential for the optimal functioning of your business.